So that was a foreign Con. Got to say it was one of the best Cons I've ever been to. So well organised, so much to do, lots of interesting people, just really, really good. Well done to everyone involved.
We checked out the flights and it seemed to be cheaper to go via Stockholm, also I'd not been to Stockholm (except once with the day job for a day & saw nothing) so Stockholm seemed the better choice.
We booked different ferries from most of the folk that were going to the con and didn't see anyone we knew until we arrived on Mariehamn, apart from bumping into Cheryl at Heathrow. Once on the island we discovered that the hotel we'd chose (the Savoy) was full of con-goers.
I'll be writing a review of the Con and more about the island for a magazine piece & will link to that once it's up. In the meantime though here's some random photographs
In Stockholm we stayed at the odd, but endearing "Collector Lord Nelson"
Which was the shape of a boat
and had a roof deck. All the fixtures & fittings were nautically themed. And it was just down the road, in Gamla Stan, from the SF Bookstore everyone told us we had to visit.
Stockholm is a city of islands and we spent a pleasant time there visiting museums (including the Nobel museum) and got to see a Jacquard Loom in action (big shout out to John Hawkes-Reed - go read his amazingly good stories in Airship Shape & North by Southwest to find out why I was so excited to see a Jacquard Loom in action!)
Sailing (OK it was on a very large ferry) from Stockholm to Aland really illuminated why the Vikings were sailors!
Our welcome to Aland was musical & it seems the Finns can create music on any subject at the drop of a hat.
At the con I did a talk, and then tried to act all nonchalent when
Mats Strandberg
blogged about it (in Swedish)
The cosplay at the Con was of another level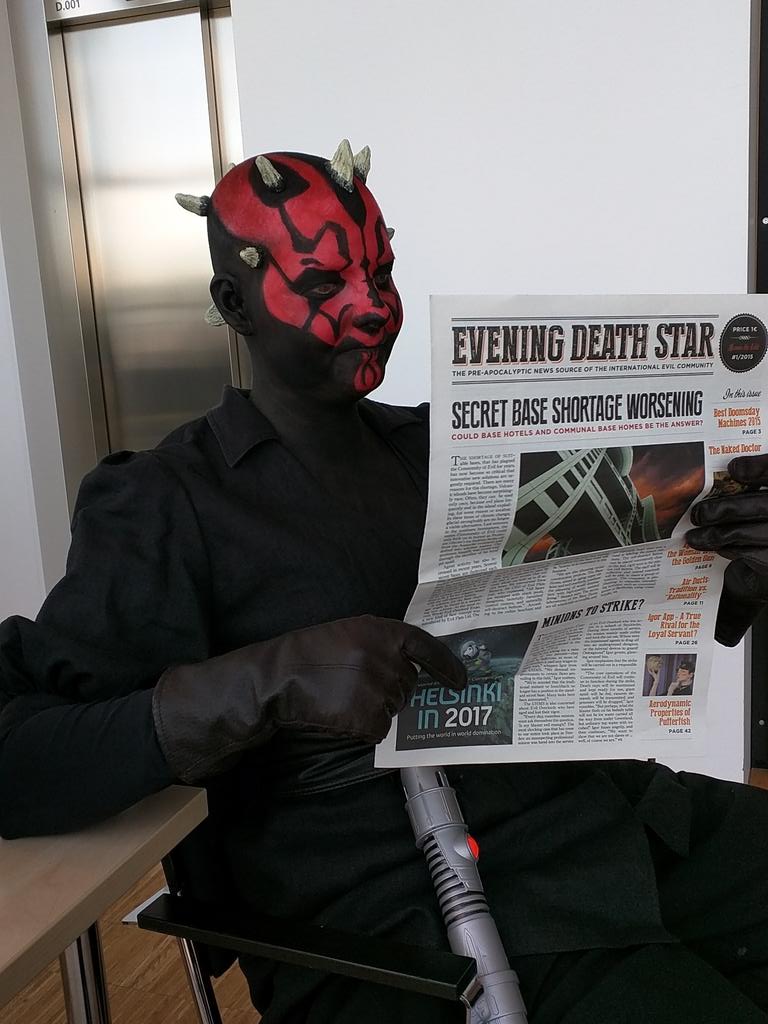 And I ran a panel too with some great comics guests
Many thanks to my panelists -
Ninni Aalto , Katja Kontturi
and
Essi Varis
I attended a much higher degree of programming than I usually do and was pushed to find time to eat on the weekend and the con was greatly enhanced by the parties in the hotel next door too.
During which they ran an evil laugh competition - ably won by
Dave Gullen
I went to so many panels but some highlights include - Writers from different countries (and the fact that all of them laughed when someone in the audience asked if you can make a living by writing). The short film adaptation of "Who is Arvid Pekon", the hilarious Bimbo panel, the Nordic Weird panel, the Storytelling panel, the talk about Vikings (worth getting up early for), the art display, the sexy times in SF&F panel, and far too many more to mention.
It was a fantastic Con and I'd go back in a shot - but it sounds like it was a one off. So I guess I'll be looking for that Con in Reykjavik next then...
Early Monday morning we said farewell to Mariehamn and sailed back to Stockholm for a day of planes, trains, ferries and automobiles to get us back safe to the UK. Tired, but oh so happy.