So whatever happened to that
Discoverability Challenge?
See also
here
and
here
Well things got busy with a major project hitting the day job and getting two book deals, and bringing out a book, and writing a book, and editing a book...
But I have been reading women unknown to me after March but not enough time to do reviews sadly
I read -
Dear Amy
by Helen Cunningham in May (which I did manage to review)
I read The Well-Tempered Sentence and The Transitive Vampire by Karen Elizabeth Gordon in June & I'll just have to owe you a review for them (they are very good basic primers on grammar)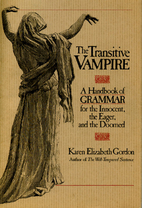 and I read The Anatomy of Prose by Marjorie Boulton in July, again review owing (an interesting book on prose forms, rhythms, and construction)
But the writing books aren't really discovering new women writers, or at least they don't feel like - and I completely missed out April...
Out of the 60 books I've read so far this year 13 have been by women and 8 by collections of authors that include women - so it does look like I'm on track to be better than last year.
I do have books that I'll get to soon for women new to me - but I think I need to prioritise them to get back on track with this challenge!
Once I've finished the ARC I'm currently reading for Titan I'll move onto
T

he House of Shattered Wings
by
Aliette de Bodard
- a writer known to me, but not yet read.